Lejweleputswa district celebrates Mandela Day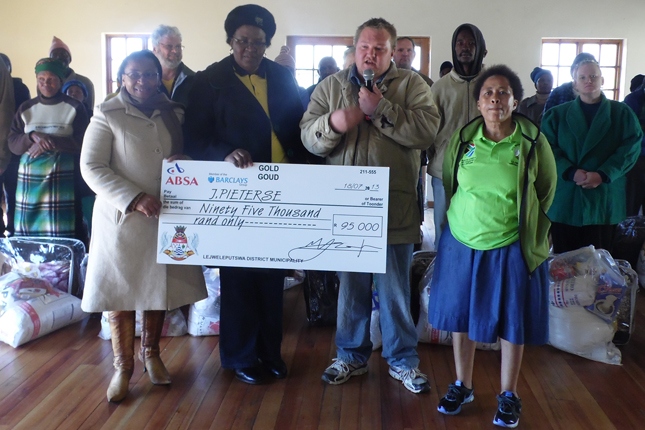 The office of the executive mayor of the Lejweleputswa District Municipality, Mathabo Leeto, set aside the whole Thursday to make a difference in the lives of poor communities within the district as part of giving during the67 minutes of Mandela Day.
"This day symbolises the kindness that human beings are capable of showing to one another. We want to remind the community that they should not wait for government to bring projects to them, but take the initiative to make a difference in their neighbours' lives and in their neighbourhood," said Leeto.
She said there are numerous sick and old people in the area who need people to help them clean their houses and yards.
"Our walls are builded so high and we have become so selfish and isolated from each other that we cannot even see a neighbour in need of help. This day gives us an opportunity to get back to our roots and get in touch with one another."
Mandela Day on July 18 is an annual international day adopted by the United Nations. It is more than a celebration of Nelson Mandela's life and legacy; it is a global movement to take his life's work into a new century and change the world for the better. Mandela Day calls on all humanity to embrace Madiba's values and honour his legacy through an act of kindness.
Leeto donated R95 000 to Johan Pieterse, an unemployed white man who wants to start a herbal shop.
"I started selling herbs seven months ago in order to support my family, but when I saw how miraculously the herbs helped people I requested the municipality to help me open a shop that will help many other people in the district," said Pieterse.
He said his first priority is to distribute his herbs to orphanages and old age homes in the district.
"Children and old people are the most neglected, therefore if my business takes off, I will give them the herbs and they should be able to live long and healthy lives."
The municipality also distributed 40 food parcels and 40 blankets to 80 child-headed families at Kutlwanong location. Another 40 food parcels and 40 blankets were distributed to 80 child headed families at Nyakallong location.
"We also went on to distribute 40 food parcels and 40 blankets to 80 child headed-family at Meloding location and 40 food parcels and 40 blankets to 80 child headed family at Malebogo location, Hertzogville," said Leeto.
She revealed that similar donations were made in Wesselbron, Theunissen and Riebeeckstad.