Food gardening provides food for Meloding youth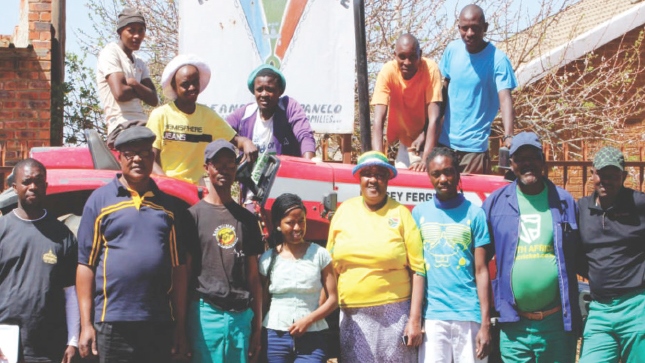 What started out as a small project in the back of Moleleki Chaka's yard seven years ago to give unemployed young people an idea of how they can be creative with their time is now a source of income to many.
Ntshirelletse Food Garden, based in the Meloding township of Virginia, has received praise from both the community and leading institution in the area. It has been hailed as a golden example of great things that can be achieved when people work together to achieve a common goal.
Chaka, who is the chairperson of the project, said the aim of the food garden is to ensure food security and job creation for its members and the community at large.
"Most of the people we recruit are young people. We want to change their perception that the world owes them something and encourage them to taking responsibility for themselves. Currently, we are maintaining two gardens, one in Meloding and the other at the Virginia Library.
"We harvest the basic fruit and vegetables that are needed in households on a daily basis. From there the produce is sold by different groups to the community, and local businesses. We also take a portion of the produce to donate to different schools in Meloding."
Chaka said the proud moment for Ntshirelletse Food Garden, was when they won first position in the Living Heritage Day competition which is supported by Free State Agriculture in 2005.
"This gave us motivation that we are on the right track, with what we are doing and also gave the community and other unemployed youth a solid reason to believe in us."
The Food Garden has been cited as an example of how small scale farming can be used to make a difference in the community.
"The Ntshirelletse Food Garden has increased a sense of community ownership and stewardship.
This group of young people have forester the development of a community identity and spirit. It is very encouraging to work in a community where people are buzzing with positive energy," said CWP facilitator, Thomas Macingwane.
Mamiki Kometsi, from the Community Correctional Services Social Integration in Virginia programme, said the project will go a long way in reducing especially youth unemployment in Melodoing Township.
"I am really impressed by what you are doing in this project. You involvement in this project will ensure that you to never get involved in crime and end up in jail which is not a good place to be in," said Kometsi.